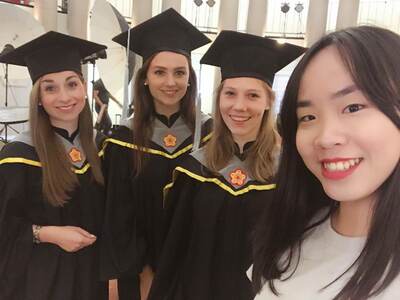 Tatung University got the subsidy from the Ministry of Education to execute The Program on Bilingual Education for Students in College-Universal Enhancement University. We established the TTU BEST Program Office to develop high quality and friendly bilingual campus by promoting the EMI courses, stipulating incentives, and facilitating the exchange of the experience of English teaching and learning both on and off campus.
The supervisor of Teaching & Learning Development Center said, " The teaching and learning of English as a Medium of Instruction (EMI) starts from the aspect of teacher and the student. For the teacher aspect, we will develop the community of the teacher, make the teacher exchange abroad to enhance the teaching of EMI courses, make each college participate in curriculum mapping, etc. For the student aspect, it involved the center of consultation of EMI, taking EMI courses as a bonus condition to apply to the student exchange program, and also as a requirement of graduation. In addition to all the above, we also established the International College, and there are also other international exchange activities, such as internship abroad, inter-collegiate programs, etc.
Considering the English ability of the student and conducting the EMI teaching gradually, we set up the goal of in 2022, 15% of the English course taught in English, in 2023, 20% of the English course taught in English, and in 2024, 30% of the English course taught in English. For professional subjects, there are 5 EMI programs that are expected to be set up. According to the conditions of implementation, each department should include the EMI courses or EMI programs as their graduation requirements.
The International Business Management Program of the College of Management and the Artificial Intelligence (AI) Program of the College of Electrical Engineering & Computer Science will take the lead to implement EMI. Besides the EMI courses, international cooperation, exchange, internship, micro-course, and joint dual-degree, etc. will be expanded to other departments.